Desirée Bollier, the CEO of Value Retail, is a long and widely experienced lady in the luxury fashion and retail industry. Ever been to Bicester Village in England or La Vallée Village in France? Yes? Desirée Bollier is the woman who oversees the management of the globally spread "Chic Outlet Villages," operated by Value Retail.
Starting with an aim to revolutionize the concept of designer outlet shopping, she works closely with some of the world's top labels, and she understands the global shopper better than anyone else. We had a chat with the pioneering Desirée Bollier, where she shared with us insights about designer outlet shopping, and how the concept evolved over the years.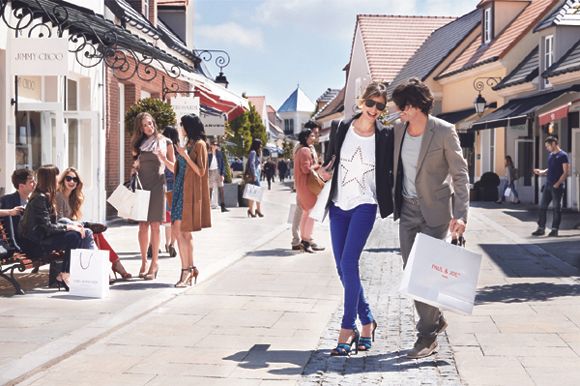 Currently there are 10 "Chic Outlet Shopping" villages across the world. What sparked the idea to establish the first village?
Actually, there are 11 "Chic Outlet Shopping" villages around the world, as the newest one is expected to open in Spring 2016, in Disney Shanghai. It will be the largest one so far, with an objective to welcome 13 million visitors from Asia.
I joined the founder of "Chic Outlet Shopping" who has a background in luxury real estate, along with my background in luxury retail fashion in 2001. We decided to create something quite innovative, that has never been done before, in a sense of developing an environment that we could build outside major capital cities nearby tourism destinations. This idea was to establish amazing destinations, where people could come and spend a day and shop. The combination of building a destination, and combining tourism and shopping and entertainment evolved over the years to become what it is today.

Value Retail has redefined the concept of discounted luxury shopping. What were the challenges that you faced in such a highly competitive market?
The biggest challenge we had and we still have to this day, is that when you refer to something as an outlet, you immediately associate it with cheap and discount. So, the prejudice we faced was multiple.
The first one was from the brands themselves, because many of the luxury brands that we today work with, at first didn't want to even consider being in an outlet, because they thought it wasn't their market. So that was the first challenge.
And once you convince the brand that we aren't at all about being an outlet, but we are a luxury destination, you had to convince the customer who is a discerning international savvy person, that they're coming to a great experience and not something that's cheap.
And the third part once you convince the brand and the customer, you had to convince the media, fashion magazines and all, that when talking to us, Value Retail, you'rw not addressing an outlet, but addressing a fashion tourism destination. Linking ourselves to our tourism partners like British Airways, Emirates Airlines or top luxury hotels... You can't imagine the resistance we had to have them put their names next to ours at first.
Today, it all seems super simple. We have about 150 tourism partners around the world, we deal with more than 490 brands, and 12,000 boutiques around the world. It took 20 years to build it to what it is today.

Can you give us an idea about the type of shoppers who visit The Villages?
34 million visitors are expected to go to The Villages this year. Who are they? We define our shopper as a "she," between the age of 25-65. She is a sophisticated woman, either a lady of leisure, or a mum, or a working girl. She may have not traveled the world, but she has a curious and international mindset. She's fashion-aware, and loves quality, and she's extremely demanding when it comes to the services. She knows about trends, and often she's done all her homework before she comes to The Villages. She knows exactly what she wants, and she doesn't mind discovering new brands and names.

Currently, there's a boom in the number of luxury shoppers worldwide. What's your plan to attract them to The Villages?
Well, first of all, a luxury shopper is not just necessarily about the product itself. To me, it's a combination of experience and product. Part of the challenges our team had, and I believe they delivered, is to create unusual destinations, where a shopper will have an amazing experience. Be it with food, art exhibitions, services, hands-free shopping, stylists, valet parking, as well as a great product that has been delivered specifically into our boutiques from the brands.
We often work very hard with our brands. We have a retail expert in every single one of our villages, that will work with the brands on the tourism marketing calendar. For instance, we know when will Middle Eastern customers will be traveling and what they'd expect to see in our villages. We try to tailor the products in the stores, the experience, even the signage will be in Arabic. Today, our goal is to customize and curate the experience, so the customers feel welcome. It's part of luxury shopping nowadays.

Do you have any shopping tips for visitors for the ultimate experience at The Villages?
1. Wear comfortable shoes! The Villages are 1 km long, and the boutiques are all worth visiting, but that requires at least three and a half hours of shopping, standing on your feet, and trying things on.
2. Book your hands-free shopping, so you don't have to worry about the bags and carrying them around. They will be delivered to your car.
3. If you are a group of ladies, book the VIP Room in advance, so you can have a moment to rest between the various boutiques you're going to check out.
4. Take your time, there is such a number of boutiques to discover. Walk around, look at everything you love, then go back and shop. Do your scouting first.
5. Don't forget that you can claim your tax-free inside of the village.

You joined Value Retail in 2001, so how did you adapt with the evolution in the fashion industry since then?
The fashion industry has definitely evolved. There has been moments of significant change in the fashion industry. Zara, H&M and the likes, have changed what the customer is expecting and the speed of delivery, the speed of change, the speed of novelty. The fashion industry has to adapt itself to a new way of working. When my mum was alive, fashion houses were delivering twice a year, then it moved to four times a year.
Today, you look at Chanel, and Burberry, which are examples of uber luxury and acceptable luxury; those houses have to adapt to a new trend and a new demand from the customer. They have new products almost every eight weeks on the shop floor, because the fast fashion has revolutionized what the customers want and their hungriness for novelty.
The second biggest factor is how accessible the knowledge of fashion has become. Today, you're sitting in your office, on the beach or in your hotel room, you don't care where you are, your phone has made knowledge available for you. Be it on a website, a blog, everything is transforming. You know what goes on in New York, as much as you know what's going on in the next neighborhood. You become fundamentally curious, and international in your demand.
As a business woman, I needed to respond to that mindset, I needed to respond to the change of the demand and novelty on the floor shop. We had to work very hard with the brands to really make them understand that actually having a shop floor that doesn't have newness on it every eight weeks will actually grow to be spare.
The same thing happened with the digital space, the customers knowing about fashion, knowing about trends, knowing about art, food, etc. all in one go. They wanted that destination to deliver everything they wanted in one go. Those trends have actually changed the way I lead the company.

Being a powerful business woman, what's your advice for young ladies who are just starting out?
The first piece of advice, is to always know what you want. Be stubborn if you are a firm believer that what you want is the right thing. Have the complete consistency and vision and stick to it. Don't let anybody tell you can't do it, but be open-minded for good-sounded advice and listen.