Are you a curvy woman? You're lucky, because curves are sexy, and it only takes a little bit of effort to highlight and enhance your figure. After looking at several photos of curvy celebrities, I learned a thing or two about emphasizing the waist and how to give the illusion of a slimmer silhouette. So, let me share with you six styling tips for curvy women inspired by celebrities.
1. Consider cuts, prints, and fabrics when picking a jumpsuit.
The first styling tip for curvy women inspired by celebrities, is about jumpsuits. I am personally a big fan of jumpsuits, but choosing the right one for your body shape can be a bit tricky. You need to pick a jumpsuit that has a high waist, tight at the top, loose at the bottom and tight again at the ankles. This jumpsuit structure will highlight your thinnest body parts, and will hide your belly. When picking a jumpsuit, avoid loud prints and colors, go for something simple.
Take a look at Khloe Kardashian. She's a curvy celebrity who's often seen in jumpsuits, and this one she picked is a perfect example.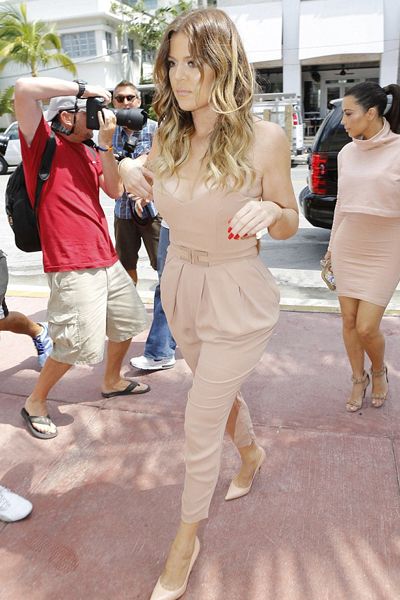 2. Style your boyfriend jeans with a nice belt, and you're ready to go.
When you wear your boyfriend jeans with flats, wear an over-sized blazer and tuck your shirt inside. It will give the illusion of a perfect hour-glass body shape.
Take a look at Jennifer Lopez, who's a curvy celebrity who perfectly styled her denim look.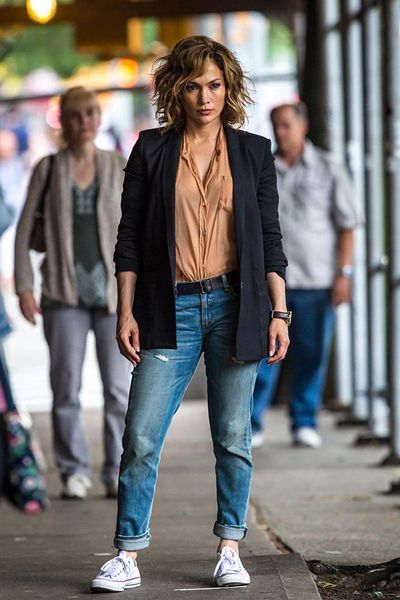 3. Go for a flared dress if you don't want to highlight your curves.

A great styling tip for curvy woman that they could consider for day dresses and evening wear, is to go for flared dresses. Why? This dress is perfect for the curvy woman who doesn't feel comfortable flaunting her curves. The tight top highlights your slim waist, and the flared bottom hides your curves, giving the illusion that you're slimmer.
Jennifer Lawrence is a celebrity who doesn't mind flaunting her curves, but here she in a fit-and-flare dress style. Gorgeous, right?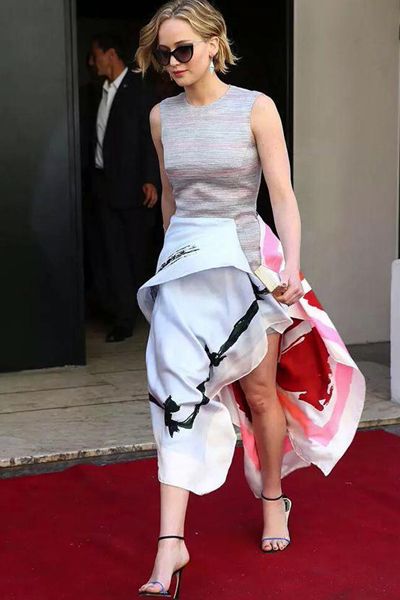 4. Sport your inner Kim Kardashian with a skin-tight dress.
If you're like Kim Kardashian, and you're not afraid to flaunt your curves, then absolutely go for the skin-tight dress. This styling tip for curvy women is mainly inspired by Kim Kardashian, who's often seen wearing skin-tight dresses. You just need a pair of high heels, suitable underwear that won't show any panty lines, and you're ready to conquer the world.
5. The peplum jacket is a great alternative to your regular blazers.
Again, highlighting your waist is so flattering to your curvy body, and the peplum jacket is the best one to do this job. Style a peplum jacket with a pair of slim fit pants or a pencil skirt, and you'll look fabulous.
Scarlett Johansson lost a lot of weight, but she's still a curvy woman. Look at the way she styled her peplum jacket, it's just perfect.
6. Go for side-paneled dresses for a slim silhouette.
This dress is basically the classic of all classics. The side-paneled dress is one of the styling tips that every curvy woman should consider. What's the side-paneled dress? It's when the two sides of your dress are made of a different color or material, which gives the illusion of a slim silhouette.
Here is Salma Hayek in a side-paneled dress. Just look at how beautiful her body looks.