Everyone has been celebrating mothers this month, including Juhayna. For Mother's Day this year, Juhayna has launched a breast cancer awareness campaign under the hashtag #حافظ_على_حضن_أم in collaboration with both, Uber and Baheya (a specialized hospital in breast cancer treatment and early detection).

The campaign launched by Juhayna will last until the end of March; the campaign's aim is to collect donations for Baheya. You should know that 1.5% of Juhayna's total sales during this month, will be going to Baheya. The campaign also aims to encourage women to do their annual breast cancer test, by providing them with free rides to the hospital in collaboration with Uber.

So, you want to know how to be part of Juhayna's campaign? Post a picture of yourself hugging your mother on Instagram, and include both hashtags #حافظ_على_حضن_أم and #وصلها_لبهية, Juhayna will then provide a free ride by Uber to Baheya, for your mother to do her early detection test for breast cancer. That's not all, your photo will help increase the donations for Baheya! So with every hug you post, more and more women in need will benefit. What are you waiting for? Go and show your mother some love, and post that picture now.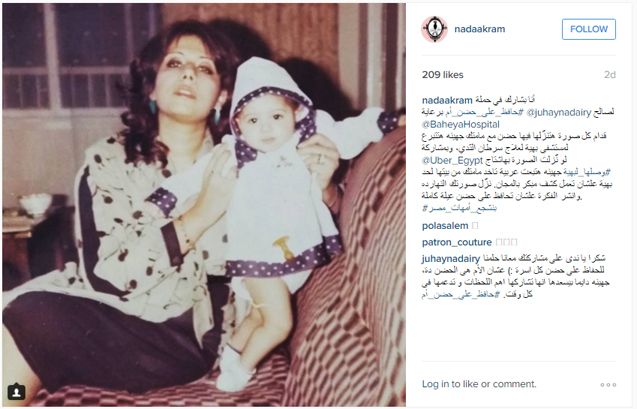 You can scroll down to see the video Juhayna has launched in support of their new campaign, it includes celebrities like model and actress Tara Emad, actor Nader Hamdy, Egyptian fashion designer Nada Akram and many more, to help spread the awareness and encourage women to do their early detection test for breast cancer.