Lifestyle
August 15, 2016 12:00 AM | by Zeina Tawfik
Rio 2016 Olympics: A Spotlight on All the Outstanding Arab Female Athletes
Did you know that there's over 100 Arab women from over 15 different Arab countries at the Rio 2016 Olympics? Whoa, that's certainly quite a large number to be proud of!
To celebrate the presence of Arab female athletes at the Rio 2016 Olympics, I decided to share with you a list of all of these outstanding women. Although not many of the Arab female athletes have won medals, however, they've done a stellar job at representing their countries.
Also, with all the controversy about gender-stereotype-bending at Rio 2016, Arab female athletes have proved that when there's a will, there's a way, and that no one can stop any woman from pursuing her goals and dreams.

1. Algeria
It's interesting to know that Algeria's youngest delegation member is a female; she's Bouchra Hirech who competed in weightlifting. The Algerian Olympic team at Rio 2016 also includes Amina Bettiche, Soad Salem and Kenza Tifahi in athletics, Amina Rouba in rowing, Anissa Khelfaoui in fencing. That's in addition to Farah Boufadene in artistic gymnastics, Imene Sahraoui and Katia Belabbas in sailing, and Sonia Asselah in judo.

2. Bahrain
Did you know that almost half of the Bahraini Olympic team at Rio 2016 are female athletes? Way to go! The representative women in athletics are Dalila Abdulkadir, Mimi Belete, Iman Jassim, Hajar Al-Khaldi, Oluwakemi Adekoya, Rose Chelimo, Ruth Jebet, Salwa Naser, Shitaye Eshete, Tigest Getent, Tigest Gashaw, and Eunice Kirwa, in addition to Fatema Al-Mahmeed in swimming.

3. Djibouti
The Djibouti Olympic team for Rio 2016 has only one woman, and she's Kadra Dembil, who has competed in athletics.

4. Egypt
With over 20 females, Egypt's Olympic team for Rio 2016 includes the largest number of Arab women participating this year! One of the main highlights so far is Sara Ahmed's triumph; a teenager who won Egypt's first Olymic medal in Rio 2016 in weightlifing. Way to go!
An honorable mention goes out to Farida Osman, the young Egyptian woman who's considered the country's best-ever swimmer, and who broke her personal record at Rio 2016.
The delegation also includes 9 synchronized swimmers, Nariman Abdelhafiz, Leila Abdelmoez, Samia Ahmed, Nour El-Ayoubi, Jomana El-Maghrabi, Dara Hassanien, Salma Negmeldin, Nada Saafan, and Nehal Saafan.
In addition to that, this year witnessed the debut of the Egyptian beach volleyball team, represented by Doaa El-Ghobashy and Nada Meawad.
The list of Egyptian women at Rio 2016 doesn't stop here. It also includes Afaf El-Hodhod, Nada Hafez and Noura Mohamed in fencing, Dina Meshref, Yousra Helmy and Nadeen El-Dawlatly in table tennis, Ebtissam Mohamed in cycle tracking, Enas Ahmed in wrestling, Esraa Ahmed and Shaimaa Haridy in weightlifing, Fatma El-Sharnouby in athletics.
There's also Hadir Mekhimar and Shaimaa Hashad in shooting, Haydy Morsy in modern penthalon, Hedaya Wahba and Seham El-Sawalhy in taekowndo, Maha Abdelsalam and Maha Amer in diving, Menatalla Karim in canoe sprint, Nadia Negm in rowing, Reem Mansour in archery, Reem Kassem in marathon swimming, Sherine El-Zeiny in artistic gymnastics, and last but not least, Samar Hamza in wrestling.

5. Jordan
Jordan's Olympic team includes only a solo female athlete, and she's Talita Baqlah who competed in swimming.

6. Kuwait
Although there isn't an official Kuwaiti delegation at Rio 2016, swimmer Faye Sultan was the first ever Kuwaiti female swimmer to participate as an independent athlete. She didn't win a medal, but she proudly represented and broke her own personal record.
7. Lebanon

The majority of Lebanon's delegation at Rio 2016 are females! The featured Lebanese female athletes are Chirine Njeim who competed in athletics, Gabriella Doueihy in swimming, Mariana Sahakian in table tennis, Mona Shaito in fencing, and Ray Bassil in shooting.

8. Libya
There's only one female athlete in Libya's Olympic team at Rio 2016, and she's Daniah Hagul who participated in swimming.

9. Mauritania
The Mauritanian Olympic team at Rio 2016 features one female athlete, and she's Houleye Ba who competed in athletics.

10. Morocco
The Moroccan Olympic team at Rio 2016 is actually full of female athletes! Who are they? Assmaa Niang and Rizleen Zouak in judo, Fadwa Sidi Madane, Hayat Lambarki, Malika Akkaoui, Rababe Arafi, Salima Alami, Siham Hilali and Koutar Boulaid in athletics. There's also Hasnaa Lachgar and Khadija Mardi in boxing, Hind Jamili in canoe slalom, Maha Haddioui in golf, Naima Bakkal and Wiam Dislam in taekwondo, Noura Mana in swimming, Samira Ouass in weightlifting, and Yousra Zakarani in fencing.

11. Oman
Oman's Olympic team at Rio 2016 is relatively small, however, it includes two women! The Omani female athletes are Wadha Al-Balushi in shooting and Mazoon Al-Alawi in athletics.

12. Palestine
The Palestinian delegation at Rio 2016 is the largest one ever to be present at the Olympic Games, and it proudly includes two women! Who are these history-making females? The first is Miri A-Atrash, a swimmer who didn't take part in the semi-finals yet managed to break her own personal record. The other is Mayada Sayyad, the delegation's flag-bearer at the opening ceremony, and a runner who's considered the first ever Palestinian athlete to participate in the Olympic marathon.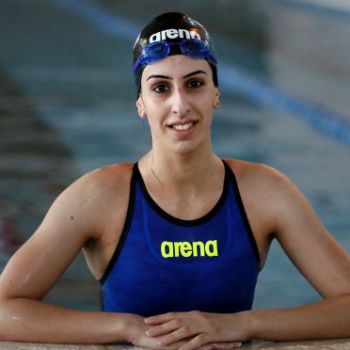 13. Qatar
Two female athletes represented in Qatar's Olympic team for Rio 2016, and they're Dalal Al-Harith who competed in athletics and Nada Arakji who competed in swimming.

14. Refugee Team
For the first time ever, there's a Refugee Team at the 2016 Olympics, and it includes the sensational Yusra Mardini; the young Syrian girl who has all the world talking about her. Why? After Yusra Mardini's family fled from Syria, she saved the lives of 20 people, when she had to jump off a sinking boat and push it (while swimming) into the land. Quite a champion, and absolutely one of the most inspiring Arab women at Rio 2016.

15. Saudi Arabia
It's always a great moment to see Saudi women breaking sterotypes and represting. At Rio 2016, the Saudi's Olympic team includes four women. The Saudi female athletes are Sarah Attar and Kariman Abduljadayel who are competing in athletics, Lubna Al-Omair in fencing, and Joud Fahmy in judo. They're such an inspiring model of women who work hard for what they want to puruse!

16. Somalia
Somalia's Olympic team at Rio 2016 consists only of two people, one of which is a female! Maryan Nuh Muse will be Somali woman taking part in Rio 2016, and she's competing in athletics.

17. Sudan
Although the Sudanese Olympic team for Rio 2016 is quite small, it includes three female athletes! Who are they? Amna Bakhit and Margret Hassan who played athletics, and Haneen Ibrahim who competed in swimming.

18. Syria
You just got to be proud of the Syrian Olympic team for Rio 2016, that included three female athletes despite the small delegation. The Syrian women champions are Heba Allejji who competed in table tennis, Baean Jouma who's a swimmer and Ghofrane Mohamed who participated in athletics.

19. Tunisia
It's enough to tell you that Tunisia's only Olympic medal (so far) at Rio 2016 is thanks to a female athlete! Ines Boubakri got a bronze medal in fencing, and she made all her country proud. The Tunisian Olympic team at Rio 2016 includes 20 women, who've been competing in different sports.
There's Afaf Ben Ismail in canoe sprint, Azza Besbes and Sara Besbes in fencing, Chahinez Nasri and Habiba Ghribi in athletics, Hela Ayari, Nihel Rouhou and Houda Miled in judo, Hela Riabi and Marwa Amri in wrestling, and Ines Gmati and Riheb Hammami in sailing. The Tunisian Olympic team also includes Khadija Krimi and Nour Ettaieb in rowing, Olfa Charni in shooting, and Ons Jabeur in tennis, Rahma Ben Ali in taekwondo, Safa Saidani in table tennis, and Yosra Dheib in weightlifting.

20. United Arab Emirates
For Rio 2016, the UAE sent four women athletes as part of their delegation, and we've got you everything you should know about these champions. UAE's Olympic team includes Nada Al-Bedwawi, the first ever female swimmer to represent the country in the Olympics, who's also the youngest Emirati to carry her hometown's flag during the opening ceremony.
There's also Ayesha Al-Balooshi, who has competed in weightlifting, and although she didn't win any medals, she managed to break her own personal record! The other two females are Alia Saeed who took part in athletics, and Betlhem Desalegn who unfortunately had to withdraw from her racing competition due to a leg injury.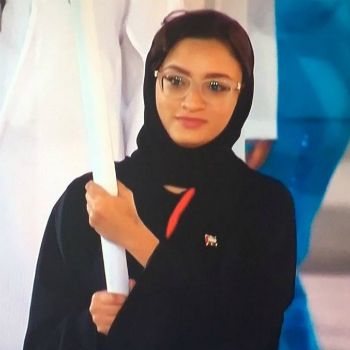 21. Yemen
Yemen's Olymic team for Rio 2016 includes two women who represented in two different categories. Hanin Thabit took part in swimming, and Nooran Ba-Matraf who competed in athletics.