Lifestyle
October 11, 2016 12:00 AM | by The Fustany Team
Okhtein: A Young Egyptian Label That's Shaking Up the Fashion Industry
Mounaz and Aya Abdel Raouf, the two sisters behind 'Okhtein' were both born and raised in Cairo, Egypt, and they've always had a passion for art, design and fashion. Even though they didn't get the chance to study fashion in Egypt, they found a way to inspire themselves; Mounaz is a painter, and Aya is a visual artist. Together, they decided to start something that involved fashion, art and design. Both of them have very different personalities: Mounaz being the quirky one, which adds to Aya's minimal chic look.
Okhtein was launched a couple of years ago; how do you feel now after highly positioning yourselves in the international market?
We feel great, and it definitely feels rewarding; however, we both know that this is just the start. We believe that we can't slow down now, because that would only mean that we're settling with what we've accomplished. We always dream bigger and aim higher, seeking to inspire people around us and represent our country in the best possible light.
Ayah and Mounaz, how do you combine your thoughts and inspirations for 'Okhtein' without major conflicts?
People think that it's always sunshine and rainbows at our office; that is not true. We argue a lot and we believe that it's very healthy, because we end up -in some weird way- inspiring each other. We have different personalities that somehow balances each other out. Mounaz is all about quirky colorful prints and Aya is about the minimal chic look. After three years of trying to understand where we fit in, we decided to explain our brand as "Minimal with seasonal quirkiness." When people ask us, who designed what? We never really know how to answer them, as we always complete each other's ideas.
You started off with handbags, and then branched into makeup bags, scarves and beach towels;what's next for 'Okhtein'?
This winter, we are releasing a new line of scarves with new materials. The concept is much stronger than last year's, as we believe it's more personal. Each year we get more personal. Next month, we are announcing the collaboration we've been working on with Select Jewelry. For the past year, we've been sketching and designing to create high-end affordable fine jewelry. We designed really cool pieces, and we can't wait to reveal them. Make sure to stay tuned as we have other collaborations coming up soon which includes OKHTEIN SHOES, OKHTEIN JEWELRY and OKHTEIN PERFUME.
Do you have a favorite 'Okhtein' bag or collection to date?
Mounaz& Aya- my favorite 'Okhtein' bag to date is the Palmette Flower Minaudiere which is made out of brass. I absolutely love it as it's a piece of art. It takes up to two months in production and a team of 10 different men working on them.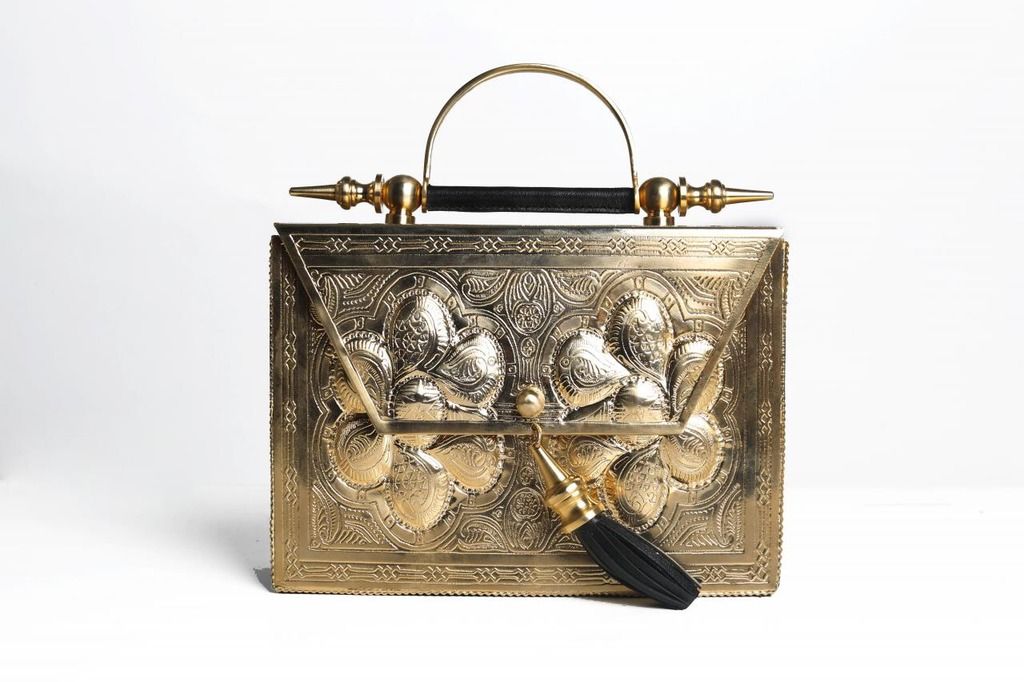 Tell us about your experience working with local Egyptian artisans to produce your impeccable designs.
Working with local Egyptian artisans is the hardest yet most inspiring part of our jobs. Before starting OKHTEIN, we were warned by friends and family that working with artisans, especially being a woman is probably the hardest part of this job. Aya and I took it as a challenge and here we are, three years later and we're still struggling. The struggle however is worth it when we end up designing something so beautiful, getting great feedback from client. We believe that having a handmade bag is much more meaningful than having it industrially produced.
The biggest challenge you faced when you were launching 'Okhtein' was…
Not knowing how people would react. Although we both agreed that no matter what happens, we have to be confident enough that we're convinced with our designs and in love with them, we were a little anxious. Every challenge that came our way was motivation to grow, learn and succeed.
Do you wear designer handbags other than 'Okhtein'? And if so, who's your favorite designer?
Our friends keep asking us, why we sometimes wear bags other than OKHTEIN. They said that it's not "good" for our brand. Every time someone says that, we laugh and say: We're not here to compete with other brands, we're here to create pieces of art, and art shouldn't be competitive. Just like I love a Celine bag, I also love an Okhtein bag. We love Prada, Fendi, Celine, Chloe and definitely YSL.
Your dream 'Okhtein' store would be located in (…).
London, Paris, New York and Italy are our dream 'Okhtein' stores. We're working very hard on making this dream come true.
Emma Watson, Emma Roberts and major street style stars accessorized with 'Okhtein.'Who else would you love to see flaunting 'Okhtein' designs?
We would love to see more models wearing our bags like Kendel Jenner, Gigi Hadid and Cara Delevingne. We would also love to see singers like Rihanna and Beyoncé wearing our bags. Honestly, it's endless with who we want wearing our bags, because in every field we both have icons who we would love to see wearing our bags.